How to get content for a new website
Got a new website? Congratulations!
You have completed 30% of your work. The frame for your business has been built.
Now, you need to setup the store.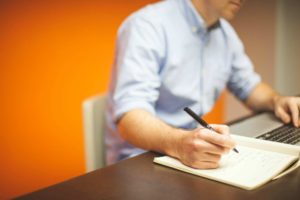 A new website owner is always excited about his/her site.
It's just like buying something new.
Something, with which you connect your expectations and dreams.
For people who already own websites, a new website is like a new venture.
For those who have just begun, its like an adventurous voyage.
Creating apt content for your new website is essential.
That's because, content is what plays the most important part. It interacts with your website's visitors. It answers their questions.
Here, I will outline three different ways to get content for your website. Each of them has their pros and cons.
1) Basic- Do it yourself
As you're just starting out, you can always try doing it yourself. It somehow depends upon the language you are going to setup your website.
If you have good English writing skills, and your website is in English, you can write the content yourself.
This method is best for people who own hobby blogs, discussion websites, or just want to reach out to people, just to express themselves.
This method is not recommended for professionals and business websites.
Pros: Zero cost.
Cons: The content lacks editing. You might lose interest in maintaining a schedule. Dedicating time. Lower conversions.
2) Advanced- Scrape a freelance website
Well, if you are quite concerned about your budget, this option is for you. There are,  however, some drawbacks in this method.
You can always search for freelance writers on websites like Upwork and freelancer. There's a lot of talent out there. From every part of the world.
You can find freelancers with low rates as well as with higher price expectations.
You can post a job on these websites, and freelancers will come bidding on them. The best part here is that you will get competitive pricing for your projects.
The major drawback is that, you'll only get what you pay for.
A freelancer puts in as much effort into a project, as needed. But in the end, there's money that matters as well.
You cannot expect to build a skyscraper at the price of a caravan. That's the basic difference.
The content for a new website has to be prolific and impressive enough to fetch you results.
However, this method is highly recommended for people with a tight budget, and people who just want to test their websites.
Pros: Competitive pricing, find global talent, professional service.
Cons: Unclear terms, time zone differences, quality suffers sometimes, fees.
3) Expert- Hire a copywriter
Let's understand this one with an example.
What options do you have if you want to build a car, from scratch?
Yes, you read it right. I wrote 'CAR'.
You have three options.
a) Do it yourself.
b) Hire a local mechanic.
c) Contact a car manufacturing company.
Now let's take a look at the inputs and outputs of these options:
Option a) Do it yourself.
Input:
Buying components from a garage sale or somewhere(engine, frame, tyres, etc,).
Tools from the local store.
Do-It-Yourself manuals and guides.
Output:
A working model, maybe! Or you can at least call it a car, because it has tyres, engine and a frame.(unless you are a trained mechanic).
Option b) Hire a local mechanic.
Input:
Money. Probably less than buying a brand new car.
Design specifications.
Output:
A classy new car, customized to fit your needs. It will keep you pleased for a while. For several years .
Option c) Contact a car manufacturing company.
Input:
Time.
Investments. More than buying a brand new car.
Design specifications.
Output:
A masterpiece. A rare design with technical tranquility and a class. You know what I'm talking about..
Hiring a professional copywriter is exactly the same as option c.
You know that the output is going to be top notch. Something your competitors won't grab so easily.
This method is recommended for professionals and business websites. Who take their websites as serious business and are ready to invest time and money into it.
People who want to improve their traffic and conversions should also consider hiring a professional copywriter as it is always beneficial in the long run.
Pros: Professional service. Guaranteed results. worthwhile investment.
Cons: Not for people with micro budgets.
All the methods mentioned above have their own pros and cons.
You can choose either of them according to your convenience and needs.
$100 Off On Your First Order
Begin a project with us and get $100 off on it